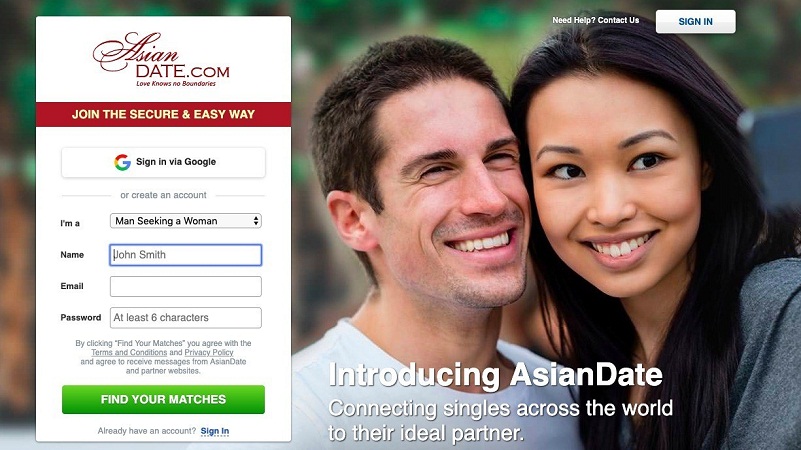 AsianDate.com was one of the first companies to develop a platform designed to connect people from around the world and it remains at the forefront of its field, continually developing improved communication technologies that allow people to discover and enjoy the possibilities of an exciting, globally-interconnected future. The site now has over 20 million members, more than 80 million visitors annually and 1.5 million+ messages exchanged daily.

Hot Chinese Models – AsianDate.com
AsianDate has some of the hottest Asian mail order brides you will find anywhere online. In fact, if you are dreaming of dating hot Chinese models. It is probably the best place on the internet to begin your quest. There are a lot of beautiful Asian ladies on the site now. But you should check back regularly to AsianDate because they make it their business to find super hot Chinese models, beautiful Filipina girls, and sexy Thai brides.
AsianDate is owned by Anastasia International, and as with all the sites in the Anastasiadate, family communications flow exclusively through their site, and all personal data and contact information is deleted from your emails.
RELATED ARTICLE: EuroDate.com
Frequently Asked Questions
How do I delete AsianDate.com account?
Account deletion can be requested through email correspondence with AsianDate customer support.
How do I chat with users on AsianDate.com?
In every search query result, there is a chat option which you can just click to begin chatting right away. However, this is not a free feature.
Is AsianDate.com safe to be a member of?
AsianDate has terms and conditions for fair use. It is up to you if you want to pay the website for its features.
Can I send a message for free at AsianDate?
Only the first exchange is free at AsianDate. If you want to interact with the members more, you'll be asked to upgrade by purchasing Credits.
Are the profiles in AsianDate real?
The authenticity of the profiles in AsianDate is controversial. There have been reports of stolen photos of women found on the website.
What is the price list of AsianDate.com credits?
20 Credits for 15.99 USD
160 Credits for 96.00 USD
1,000 Credits for 399.00 USD
What are the paid features of AsianDate.com?
There are many special features on AsianDate
Reply to letters Live
chat with female profiles
Cam Share
View videos on women's profiles
Virtual Gifts Flowers and presents delivery
Three-way call with an interpreter
Is AsianDate.com expensive?
Yes, In comparison to other providers AsianDate is expensive.
How does AsianDate.com Work?
Asiandate.com helps Western men liaison with the best in Asian women through a network of over 1000 dating agency partners located in cities across Asia. Asiandate.com brings romantic couples together in a number of ways starting with Search,
Email Correspondence and
Call Me, then move to "live" platforms such as organized dates in Asian.
What is Love Note on AsianDate.com?
It is easy to catch the Lady's attention by sending her Love Note absolutely free for you.
Just find the "Love Note" icon in her profile,
choose one of the most beautiful cards and
click "Send for Free".
Phone Number: +1 (800) 311-7598
Address: 551 5th Ave, New York,
NY 10017, United States
Reviews
Fraudulent company - BEWARE
Fraudulent company – BEWARE. They set payments to recurring without your consent. Refuse refunds and ignore requests for them to stop taking your money. DO NOT GO PREMIUM ON THIS APP. WILL COST YOU HUNDREDS OF POUNDS!
I am disappointed in the service
Do not waste your money on this website. Number one thru don't have my match and they took money out of my Account after I cancelled. I spoke to the associate who told me that refund cannot be made despite that I cancelled because I am disappointed in the service.
Would not recommend
I paid for a 6 month subscription. I was not happy with the matches. Not many near my home. Kept showing the same people even when I passed on them. Also didn't keep to the ages I specified. Would not recommend.
It's a dangerous site
I've been on several online dating sites and It is by far the most rampant with scammers. It's a dangerous site. It's very apparent these scammers are hacking legit profiles and they'll do it for yours!
Run as fast as you can away from this site.
Run as fast as you can away from this site.
Too Expensive
When you visit online dating sites You want to see the potential partners or Read their Bio before you invest. This crappy site doesn't allow you to even nibble. Bad site, do not waste your money. I have spent $200 on other sites, what a waste of time. Too Expensive
Disgusting
This really is an appalling site. After reading the other comments, I could relate to everyone who had raised concerns. £120 lighter for a 3 month membership which would seem to generate fake emails of people expressing interest or making comments on my profile only for me to log in and see no such comments. Absolute fraud with no chance of refund. This was on the 2nd day of paying for a premium membership. Disgusting
This is the worst experience
This is the worst experience I've ever had. Expensive no payment plan. Mostly far away from me. Waste of time.
Do not get app waste of money
Do not get app waste of money. Got no matches. All people are 200km plus away or have nothing in common. Asking for a refund and it is way to expensive
This was a frustrating
This was a frustrating and disappointing experience.
AVOID
It's OK for women to pose provocatively in bikinis in their pictures but not OK for a guy to post a beach picture topless?? A running theme, as all the posts on their social media are pro feminist and anti anything male. The whole premise of "empowering women" to make the first move gives you a clue of what is to come with all the other anti male themes running throughout…AVOID
It is a SCAM
The website is useless. Didn't meet anyone, got some messages from women 15+ years older than me. It is a SCAM also, because I removed my debit card from their system, I deleted the automatic payment and I clicked delete subscribtion button AND they stole from my card 50 euro! I contacted their support, and they keep lying even while I show EVIDENCE. Bottom line, avoid this site, because they aren't good as a dating website and they also steal your money after you leave them.
Total waste of money
Total waste of money. Even as a paying member you can't see the pics of non paying members….how ridiculous. It's a very small membership in the Gold Coast area for 45-60's so I would not recommend it for Women looking for Men in that age group. This site really need to update the way their site works as the free sites offer way more flexibility. Getting the subscriptions are their highest priority. Very disappointing!!!
It was a complete waste of money
It was a complete waste of money. Continuous offers to "upgrade" for more money. I get emails saying I have "messages" but when I go to the site, I don't. There are messages that some people "want to know you" but don't even go. The few messages I have received have been answered with no response, which I do not think is successful. I tried to contact the company but just walked around.
Just have to keep talking
Just have to keep talking. Best to talk to the people who just entered this site. People who have been on this site awhile don't talk or have left and moved on to other methods
I hope everyone find
I think the gentlemen that were, for the most part, on this website for the right reasons. I found only 2 that were different to be nice!,. The other were entertaining and funny for the most part. I hope everyone finds the Love that I found
I'm unhappy with my experience.
I'm unhappy with my experience.
Site is a rippoff
Site is a rippoff…closed my account for no reason and stole my money….this site is horrible!
This website is deceiving
This website is deceiving. You will get multiple views but they are bot views. If you message someone most of they do not reply. The views are to bait you to subscribe. Lastly if you finally get a message it will be for short time until they Ghost you.
I thanx to this site
I thanx to this site as it helps me to spend good time with other "locked down at home" people lol :D. Well, I did like chatting, new functional and features which also great!
I have had some amazing connections
I have had some amazing connections with a few women in here and have been thinking of asking one of them out.
The platform is wonderful
You can find here lots of profiles, and they seem to be quite real ones. The platform is wonderful. It provides many different communicative tools and custom services are really friendly. I had some problems and we managed to solve it quickly.
Perfect match
One of the most interesting features of this dating site is that you can put your interests and hobbies. It will be really useful while looking for a perfect match.
I highly recommend it
This is a great online dating I met somebody that is incredible I highly recommend it
Had nice experience
Had nice experience with someone and get on really well.
This is a great place to meet
This is a great place to meet a number of people that are seeking the same things as you are. Had the chance to meet someone very special to me.
Great service
It was a sufficient way to see how many people were interested in me and a great service for chatting and it was comforting to see that the pictures were verified.
I'm very happy this site worked
I'm very happy this site worked. I found what I needed and couldn't be happier all I can say is try it for yourself if you are looking for love it is it there
This is actually a good place
This is actually a good place to hang out when you don't have better plans for the evening or weekend, or maybe the whole week.
Scammers and hackers
This site is filled with false profiles, scammers and hackers. It is my opinion and feeling that this site is aware of what is going on and may be involved themselves. IS ANYONE INVESTIGATING THIS SITE???
I would not recommend this site
Good luck but I would not recommend this site.
Disgusting people run this service.
Spam of the earth run this service. Created my profile, and they deleted my profile without any warning at all. Nothing at all violated on my profile. Disgusting people run this service.
I would stay away
This website is infested with fraud, money scams, transgender women, and fake people and profiles. There are some genuine people I would guess but I have not met a single genuine match. Wasted money. wasted time. With all the fraud, undiscloed transexuals and just plain mean people,I believe this website would qualify as a scam. I would stay away.
Guys don't waste your time.
The women on here are up their own ass and so far have all either been time wasters or turned out to have a boyfriend. Also the majority of them have serious mental issues which prevent a relationship from ever happening. Guys don't waste your time.
100% SCAM SITE
This site is hugely expensive, messages censored and badly translated deliberately to make you pay to send more messages, many if not all profiles are fake. SCAM SITE ALERT. The censorship of messages removes bad comments about the site too!! 100% SCAM SITE. TYOU WILL PAY MUCH MONEY FOR NO RETURN. ALERT ALERT. SCAM SITE SCAM SITE