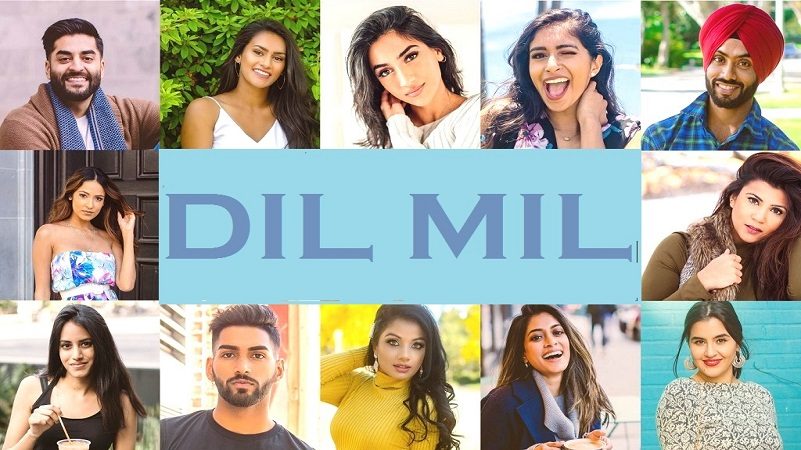 DilMil.co is a dating app designed specifically for South Asians, catering to individuals who are looking for a partner who shares similar cultural values and beliefs. The app's tagline, "connecting like-minded South Asians," sums up its purpose quite succinctly.
Launched in 2014, DilMil co has quickly grown in popularity and has become one of the most popular dating apps in the South Asian community. The app boasts over one million users, with thousands of successful matches made every day.
DilMil.co is not your typical dating app. Instead of swiping endlessly through profiles, the app uses a unique algorithm to match users based on their preferences, interests, and location. Users can create a detailed profile that includes information about their culture, religion, and family background.
One of the most significant advantages of using DilMil.co is the focus on cultural similarities. The app allows users to filter matches by religion, language, and other cultural factors. Which makes it easier to find a compatible partner. The app also offers safety and security measures, such as photo verification and report features, which ensures a safe and respectful environment for all users.
What is DilMil.co?
DilMil.co is a dating app that focuses on connecting South Asian singles around the world. The app was founded in 2014 by KJ Dhaliwal and Sukhmeet Toor, with the goal of creating a platform that caters to the unique cultural and religious values of the South Asian community.
DilMil.co stands out from other dating apps by offering a more personalized and curated experience for its users. It uses a combination of artificial intelligence and human curation to match users based on their preferences, such as religion, ethnicity, and education.
The app also offers various features to help users make meaningful connections, such as icebreakers, chat prompts, and a video call option. It also has a strong emphasis on safety and privacy, with features such as profile verification and the ability to block and report users.
How DilMil.co Works
DilMil co is a dating app that connects South Asian singles looking for love and marriage. The app is designed to make it easier for members of the South Asian community to find compatible partners who share their values and cultural background.
Here's how DilMil.co works:
Create a Profile: To get started on DilMil.co, you need to create a profile. You can sign up using your Facebook or Google account, or by entering your email address and creating a password. Once you've logged in, you'll need to fill out some basic information about yourself, such as your name, age, location, and what you're looking for in a partner.
Swipe and Match: After you've created your profile, you can start swiping through potential matches. Like many other dating apps, DilMil.co uses a swiping system to help you find potential matches. Swipe right on someone's profile if you're interested in getting to know them better, and swipe left if you're not. If both you and another user have swiped right on each other's profiles, you'll be matched and can start messaging each other.
Connect and Chat: Once you've matched with someone, you can start chatting with them through the app's messaging system. DilMil.co offers a few different messaging features, such as the ability to send emojis, photos, and voice messages.
Meet in Person: After you've chatted with someone for a while and feel comfortable with them, you can arrange to meet up in person. DilMil.co recommends that you take your time getting to know someone before meeting up in real life, and always meet in a public place for the first few dates.
Advantages of Using DilMil.co
Using DilMil.co comes with several advantages that make it a popular choice for people looking for a serious relationship:
Large user base: DilMil.co has a large user base, making it easy for users to find someone who matches their preferences.
Focus on serious relationships: The platform is designed to facilitate meaningful connections and serious relationships, making it a great choice for people looking for long-term commitment.
User-friendly interface: DilMil.co has a simple and intuitive user interface that makes it easy to use even for those who are not tech-savvy.
Advanced search features: The platform allows users to search for matches based on their preferences, including age, location, religion, and ethnicity.
Compatibility matching: DilMil.co uses advanced algorithms to match users with compatible partners based on their interests, values, and personality traits.
Video and audio profiles: Users can create video and audio profiles, which make it easier to get to know potential matches before meeting them in person.
Safety and security: DilMil.co takes the safety and security of its users seriously and has measures in place to ensure that users can use the platform without fear of fraud or harassment.
Success Stories
DilMil.co has helped thousands of people find their perfect match. Here are some of the success stories shared by its users:
Neha and Rajan: Neha and Rajan met through DilMil.co and instantly hit it off. They found each other's profiles interesting and decided to connect. They talked for a few days and realized that they had a lot in common. Soon, they decided to meet in person, and their first date was a huge success. They have been together for over a year now and are planning to get married soon.
Ravi and Priya: Ravi and Priya were both looking for someone who shared their values and beliefs. They connected through DilMil.co and started talking regularly. They found each other's company to be very comforting and soon realized. That they had a special connection. They decided to meet in person and were pleasantly surprised to find that their chemistry was even stronger in person. They have been together for almost two years now and are very happy.
Dil Mli
Rohit and Kavya: Rohit and Kavya were both busy professionals who didn't have much time for dating. They decided to try DilMil.co and were surprised by how quickly they found each other. The connected over their shared love of travel and food and soon started planning a trip together. They have been together for over a year now and are looking forward to many more adventures together.
Akash and Shruti: Akash and Shruti were both hesitant about online dating but decided to give it a try. They both found each other's profiles interesting and decided to connect. They started talking and realized that they had a lot in common.  the decided to meet in person and hit it off instantly. Tey have been together for over a year now and are very happy.
Rahul and Nisha: Rahul and Nisha were both looking for someone who shared their passion for music. They found each other through DilMil.co and started talking about. Their favorite artists and songs. They decided to meet at a concert and had a great time together. They have been together for almost two years now and are very much in love.
Conclusion
DilMil.co is a dating platform designed specifically for South Asian singles looking for love and long-term relationships. The app offers a unique matchmaking algorithm that takes into account various factors to help users find compatible matches. The platform also boasts a user-friendly interface and a range of useful features, such as audio and video calls, in-app messaging, and more. The success stories of DilMil.co are a testament to the effectiveness of its matchmaking system, with many couples finding their happily ever after on the app.
If you're a South Asian single looking for love, DilMil.co could be the perfect dating platform for you. With its range of features, easy-to-use interface, and highly effective matchmaking algorithm, DilMil.co offers a unique and exciting dating experience. So why not give it a try and see where it takes you?
RELATED ARTICLE: YourLoveMeet.com
Frequently Asked Questions
Is it important to get the premium to use it?
If you are not looking forward to getting the premium of dilmil.co don't worry because it is for opening out some additional features. But without premium as well you will be able to engage in chatting with other users.
Can I share personal details with other individuals on the portal?
We suggest you be patient for a while because you never know about the nature of another person. If you trust the other person enough that you can share your personal details with them move ahead. But if you have no good Vibes related to the same we do not suggest you do it.
Can I delete my profile?
If you are not looking forward to using DilMil anymore you can simply delete your profile. Usually, people considered the deleting option after finding out the right companion and if the same has happened with you go ahead and visit the settings section and there you will find out the deleting option.
Endnote:
Finally, DilMil.co here we have shared all the related details about finding the right companion on the DilMil portal. We suggest you not wait anymore because opportunities never know your door again and again. You can easily find out the right companion with whom you can have a long conversation without thinking about time. But make sure you are not violating the rules and regulations because. If you are troubling any person on the portal Developers to find it out. Your account will be terminated from the portal.
Reviews
They didn't get back
I joined this site and initially had no issues. If you like a girl and they like you it's a Match and the girl has to make the first move. Sounds sensible! The problem is you run out of people rather quickly so of course you delete your payment details so they won't renew….. until they renew and take another payment. I've repeatedly written to their "customer service" only to be told by an automated message that their bees are very busy and will get back to me. They didn't get back to me, closed my query and still haven't replied to the subsequent query. I'm waiting a month now for a reply.
No response of course
I had my profile set to hidden and hadn't filled out much along with uploading one photo. All of a sudden I get bombarded with sleezy messages. I was really put off by it and contacted customer service for a refund and to de-activate my account. No response of course. I'll stick with eharmony, they have a better reputation and only matches can contact you along with having settings that work correctly.
Never ever pay
Never ever pay or even use this website you can not talk to anyone in the profile, you can never make contacts unless you pay over 50 dollars or more for even one day, I'm not joking. I got sucked into it for 30 days and I'm going to dispute it with my cc company, I was taken to believe I could converse with someone and you can't unless you pay another 10 dollars for one chat. Never again.
They're obviously NOT serious
They're obviously NOT serious about keeping the fakes out.
The company is corrupt.
DO NOT SIGN UP FOR THIS SITE. My account was hacked from within. Someone sent messages to all my matches that was not from me. I contacted Customer Care and they confirmed that a third party hacked my account but did not take responsibility. They said they have a secure site but it is not. How do I know? One day, a match is from one city and the next day that same match is from another city. The hacker took my NC location and changed it to Ohio. Please stay away from this site. The company is corrupt.
I would not recommend this site to anyone!
This website is a total waste of money. I've had more opportunities on other dating site which is free! Their base is very very conservative, lots of christians and lots of ppl who will waste your time. I would not recommend this site to anyone!
Fraud
Membership cancelled months ago. They reactivated my account without my consent and took money from my bank account
Absolutely terrible
Absolutely terrible……firstly I had no idea the 6 months fees would be taken up front instead of monthly……then to find no matter what search priorities I enter I still receive daily 'matches' that have no bearing on my chosen search criteria ?. Do not join I really wish I had seen these other reviews before
It's an absolute JOKE
What are people doing about getting sucked into the 12 months contract? Can anyone help me? I refuse to pay as I did NOT sign up for 12 months. Will this give me a bad credit rating? I have spoken to this site and got absolutely nowhere. Now I have a collection agency after me. Absolutely FURIOUS!!!! The 800+ negative reviews should speak for themselves. Seems I'm not the only person sucked into this death trap of a contract. I will keep fighting this as it's an absolute JOKE. If anyone could please share any help and/or shed some light on how to go about this, I'd really appreciate it.
Worst website ever
Worst website ever. It's a total scam. The 'customer service" line won't let me cancel my account. I'm gonna hack aka brute force attack code. This site is garbage and I'm gonna make sure they are shut down
Don't Like it
I just got banned because of unknown "innapropiate and abusive behaviour" I have never abussed or harassed anyone, so this feels more like people are falsely reporting me. The only negative thing I've ever done is unmatching someone. This is a company with unfair arbitraty practices to discriminate users.
Would give no star
Would give no star if I could met the most abusive guys ever on here and turns out if is rife for peadophiles too you only have to go onto Google do your research type in things like peadophiles ect it'll all come up. Crap sure dead abuse guys you report them and somehow their profile stays up. Absolutely no care it safety for the genuine ppl on there and lots of young scheme mum's on there with no common sense to look after their kids first! Shocking and vile like something the sun newspaper would come up with
I'm not very happy
Hi I joined you once then canceled my subscription and then found out that they still took money out of my bank account without my permission and that's why I think this company is not what it seems to be. I'm not very happy. All I wanted to know is why they took my money even after I canceled my subscription with them.
Unable to cancel contact
Unable to cancel contact, thought I was paying month to month, however they refused to let me cancel within a few days. I emailed them and they agreed to cancel however then a month later I noticed that they were still taking out payments. Now they are demanding $250. besides the monitory aspect of this app, it is a very poor quality app it works not very well with messaging, it's buggy, the selection of people is very poor as it doesn't have a widely used platform. Being a 26-year-old male there was only around six people my age in the platform and I live in a busy and populous suburb and part of New South Wales. I have sent multiple emails explaining this however they are not interested. This bunch of con artist work by their marketing on television and on social media, however it is a very poor platform to look for a relationship much more recommended would be a platform like hinge. Especially for younger adults.
It seems ok
It seems ok. I have seen better sites. You can try your luck.
Met someone special
Çontent overall met someone special i hope that other have the luck of meeting that special one others some characters buy I think that
Dil Mil app is just like playing the lottery
Dil Mil app is just like playing the lottery. You get your Hopes up thinking you might win something, even it's just your $2.00 back and nothing. Let's not even mention when you buy a $20.00 lottery scratch off ticket and win nothing. I'll just have fun with it until my subscription is up! What else can I do? The best way to meet someone is in the real world like human beings were meant to do in the first place!
Fake fake fake
Fake fake fake…. I am premium member.. But the algorithm is written in a way that you don't get single like in 3 months. And I have sent hundreds likes and hundreds messages. It's all coded to show same profiles again n again. Same people are always online. And you will never see local profiles. BIG SCAM. STAY AWAY.
I don't think so
Spent money for one month of premium and got no matches. That's fine but what is not ok is the the fact that the "like" list keeps repeating the same profiles to trick you into thinking it is longer than it actually is. I also got a "like" the very day my premium subscription ran out. Coincidence? I don't think so.
Dil Mil is Terrible app
Dil Mil is Terrible app. The maximum distance you can set is 50km and most of the time it shows there is no one. If I set my distance to 50km+, then I see profiles from all over the world, completely pointless. A female friend of mine who uses the app showed me that she could look for profiles that are close by easily. Don't know why it's different for guys? Have also sent multiple e-mails through support, but haven't gotten any response yet. All-in-all easily the worst dating app that I've used so far.
Dil Mil app is good for nothing
Dil Mil app is good for nothing. Didn't get a single match in a year and the swipes are very limited. I've used other apps and have gotten way better response. Also found same people on other apps and got matched. Didn't find any reason to keep this app.